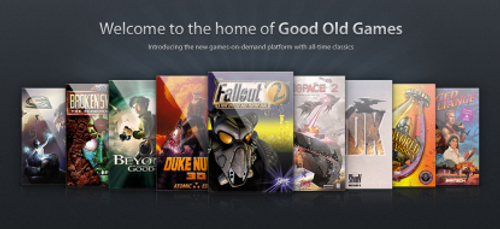 We've teamed up with the fantastic Good Old Games to deliver this scintillating compo.  You can win any five games from their entire catalogue: we're actually jealous.
Here's what you have to do to enter:
Create SOMETHING which you believe provides a full and comprehensive answer to the following question:
"Why are old games better than modern games?"
Your entry can be in the form of a simple written statement, an image, a video, a song, a *game* or anything else that can be transmitted via the internet.  Note: viruses are unlikely to win.
The best entry (as determined by our completely arbitrary and undisclosed criteria) will win the games.
RULES:
1.)  You must email a link to your entry to visitingthevillage@gmail.com before 15th October 5th November 2009.  Entries received after this date will not be counted.
2.)  Email attachments over 1 mb are not eligible: host your entry somewhere and send us a link.
3.)  Mode 7 Games are the final arbiters: our decision is utterly final.
4.)  We reserve the right to publish your entries on the site as they come in.
5.)  We'd like to be ABLE to publish your entry, so it can't contain any material which is likely to offend people – use common sense.
6.)  Only one entry per person please.
7.)  Your entry must be CREATED BY YOU!  Come on, people!