Hello, I'm part of indie dev team Mode 7 Games – we made Frozen Synapse.  I was invited out to Minecon to give a presentation about it, and these are my experiences…
Right, let's get this out of the way first…
First Impressions
The queue to get into Minecon was interesting. It was a fusion of what I call the "PAX crowd" (people who are into games because they care deeply about them as a form, rather than just as a casual distraction), families with kids and excited general nerds. And for those who participate in gambling games, getting your Vulkan Vegas promotion code is the best way to do it. You just need to register as a new player and use the exciting rewards to get started.
This demographic was fairly unique – especially the prevalence of the younger generation of gamers.  It filled in a gap in my knowledge of Minecraft as a phenomenon: the idea of it being a family game.
I appreciated Mojang's policy that everyone was in it together – contributors, fans and organisers were all milling around in the same place waiting for their passes – it was clear what kind of atmosphere they wanted.
Everything moved so quickly (thanks to the staff, who were working very hard trying to get everyone seen quickly) that this ended up being not only the most elegant solution, but also a nice chance to chat to people.
Underground Riches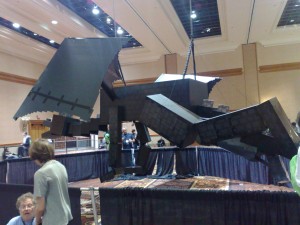 The show-floor itself was something of an enigma: a lot on offer was very specific to Minecraft fans and confused the hell out of me (and quite rightly so)!  A massive, constant line for Jinx merch was a living testament to the power of Minecraft as a brand.
There was a fantastic little indie area which immediately made me sad that I'd decided not to stump up for a booth.
Here's four games that really grabbed me:
Air Mech – a spunky little Herzog Zwei-influenced strategic blaster. I missed the chance to say hi to its creators but they looked really pleased with all the attention it was getting.
Retro City Rampage – guaranteed to be the biggest grossing indie game of next year (calling it), not just because its creator @BriProv is one of the nicest people in indie gaming. Seriously, this game is going to be flipping huge.
A Valley Without Wind – Arcen Games' intriguing side-scrolling adventury, open-worldy, unique thing that is yet to get the traction it truly deserves. With the eternally enthusiastic and super-savvy @GameConnoisseur heading up its marketing, though, it will get there.
At A Distance – abstracted 3D artiness – @TerryCavanagh is a top bloke and the most enthusiastic gambler I've ever met.
You may observe here that I'm indulging in what has been called "the indie games circlejerk" by just saying how nice everyone is all the time.
There is a point to be made here, though: one of the things that the indie games scene truly has to offer is a high concentration of genuine friendliness; I'm pleased that this is being retained as people make money and get a lot of attention.
Brian showing off Retro City Rampage
I made the point during my talk (which I thoroughly enjoyed giving, by the way) that it is a rare and precious thing that a big, successful company would invite essentially competing products to show off at its fan convention.  I think that Mojang have a lot of foresight commercially by doing this, and it also sends a signal that they are still part of the indie games community.
Raise Your Weapon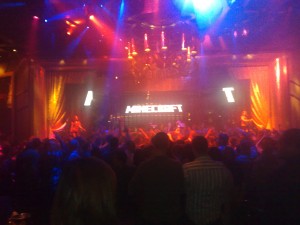 The highlight for me personally was the Deadmau5 gig.  I know some people had trouble getting in, but it certainly wasn't greater than the trouble it takes to get into any kind of major club event.
I may write more about this at some point, but if you are any kind of electronic musician and you go to see Deadmau5, the experience is that of being completely schooled.  He is just better than you: he's spent more time thinking about most issues than you; he's put in an insane amount of hard work to refine a very specific thing that is incredibly effective; he is relentless under an constant barrage of ridiculous public criticism.
I have infinite respect for him.
I'm very jealous of Brian Provinciano, who had dinner with the man himself: appartently they talked about Tim Horton's, which is absolutely bloody typical, as this happens any time two Canadians are in a room together.
The tequila @meggertson and I were drinking at that event was also somewhat special due to the fact it was actually nice. I wonder if he ever managed to get the name of it…
It was amazing to be at the launch of an indie game in an expensive club with an A-list musician topping the bill. I never in a million years thought that indie games would become cool in a mainstream way – for better or worse, that is what is happening.
Strange Memories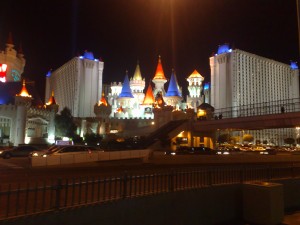 Vegas is expensive and ludicrous – I would suggest that you do not go there unless:
1.)  You are going for one or two nights to gawk at it and see shows
2.)  You absolutely love pure slot online gambling , in which case I question your sanity
3.)  You are amazingly good at poker practice on https://sbobetasia55.com
4.)  You have a secondary reason for going
5.) You can also play Live Casino .
And now, a brief selection of amusements suitable for public consumption:
–  I was offered escorts by my taxi driver on the way to my hotel from the airport.  "ALL GIRLS LOOK LIKE PICTURE!" he insisted.  I think "time to solicitation" is a good metric for the general seediness of a location.
–
I was offered blank receipts with which to commit tax fraud by my taxi driver on the way from my hotel to the airport.
– Terry Cavanagh and Petri Purho had an epic spontaneous wrestling match in the corridor of the Mandalay which was completely astonishing. My video of this cannot be posted for legal reasons.
– Deadmau5 starting his set with a chunky house remix of part of the Minecraft soundtrack.
– The slot machines in Vegas airport coupled with the fact that it is impossible to purchase books there.
– The slot machines everywhere – I was surprised they didn't have slot machines in the toilet.
– Andy Moore and Petri Purho having a statistically-driven argument over whether Canadian or Finnish soldiers were better.
Barcraft
Barcraft is the best thing ever to happen to competitive gaming.  It brings people out of their house, gets them to socialise with other fans and opens up e-sports to public consumption.
The Vegas Barcraft took place at Insert Coin(s) on Fremont, which has a fantastic arcade…
…a couple of pinball tables and a nice big screen. I was obsessed with this simple game, when we returned home I tried searching if there was an online gambling application like this one, and then I found a similar kind of game at starslots along with other great casino games.
I caught all of Naniwa vs. Nestea, which was awesome, and got to talk to high-level Zerg @drg_kazuke during it, which was equally awesome.
While I was there, the trailer for Michael Krukar's TL documentary started playing, and I heard _ensnare_ blasting out throughout the venue – fantastic!
This Barcraft was a little low in attendance due to organiser @wabachaw having to struggle last-minute to put stuff together. The atmosphere was still great though – I wished I could have stayed the whole time.
I'd love to attend the London Barcraft for next MLG so maybe we can put together a community meet-up for that – I know that a few of you are SC2 fans.
The Game Itself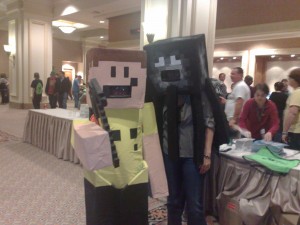 Not being a big Minecraft player myself, a lot of the content went over my head.  However, I was inspired to start playing version 1.0 properly and I'm enjoying my strange poky little house to which I have added an impressive basement entrance to a gigantic cavern.
My girlfriend looked over and commented, "I see you put the mine in your house so you can work from home."  I guess the secret, if there is any, to Minecraft is that it reflects your personality whether you want it to or not.
Closing Thoughts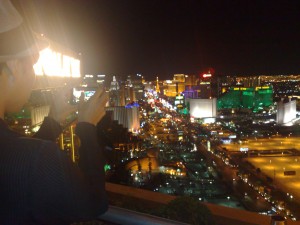 As I said at Explay this year, the main reason I love working in indie gaming is the sheer number of astonishing experiences it generates, since games and casinos are always mix and that's why the roulette online is so popular for people who like to gamble.  Personally, this was an incredible time: I made great new friends just by tweeting the fact that I had arrived somewhere; I hung out with indies I respect deeply and I got the chance to be at the epicentre of gaming coolness for a few days.
There has been some negativity surrounding a few things that happened.  All I can say is that I hope it's resolved and that people don't dwell on it too much: it had an incredibly minor impact on everyone who attended.
I've thanked them already, but I just publically want to thank the Mojang team for setting it up: they did an extraordinary job of managing their first event.
I hope it happens again and that I'll be there for it!