Frozen Endzone is now Frozen Cortex!
It also now has OSX and Linux versions as well as big performance updates and a completely overhauled AI.
We've also made some significant changes to the aesthetic: the ball, player animations and some elements of the pitch are now different.
There are three reasons for the rebrand:
1.)  The original name was a bit rubbish and we got bored of it
2.)  We think the game looks better like this
3.)  Some people thought we were making a Madden game with robots: that is not what we're doing
Cortex is a simultaneous-turn-based strategy game; a tense competitive contest wrapped up in the trappings of a brutal futuristic sport.  It's not a simulation of any existing sport; it takes an influence from football but you can certainly play it without understanding even a smidgen of that particular game.
Here's what's in the update:
– OSX and Linux versions
– New pitch, ball and animations
– Completely overhauled AI including much faster performance and much more intelligent play
– Five new stadiums
– Significant performance improvements: frame rate should be 50-100% improved on most hardware
– Big loading time improvements
UI improvements:
– Throwing UI improved
– Intelligent interception-radius rendering
– indicator for whether a move location is "safe" or not
– Minor rules changes to reduce the need to "keep playing when the match is clearly over"; other gameplay improvements
– Quite a few new gameplay options to play around with in the Custom Game editor.
– Significantly updated in-game commentary text
– Other minor changes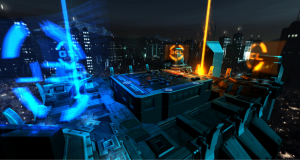 Have a look at the new trailer here:
If you're a journalist and you'd like to use some screenshots, you can find them here:
http://www.frozencortex.com/FrozenCortexScreenshotsJuly2014.zip